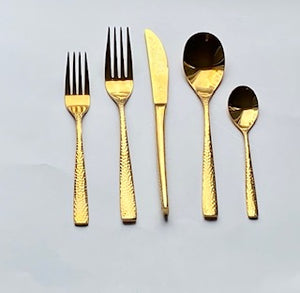 Fiona is available for rent in 5, 4, 3 or 2 piece sets.
Each piece rents for 80 cents. To pay for your rental, please multiply the number of pieces that you want per guest by the number of guests you are having for your party.
For instance if you would like to rent 3 piece sets for 10 guests, you would need to pay 80 cents for 30 pieces of flatware. Please contact us if you need any further clarification.
Fiona is gracefully made with high quality 18/10 stainless steel quality material. easy to handle.
Great for formal or informal banquets and parties